Club Med: Half Off Your Better Half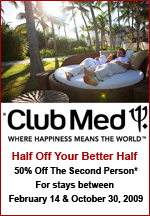 Over a half century ago, Club Med reinvented the way people play: bringing active, fun-loving people together to experience the world in unforgettable ways. Club Med built villages in beautiful, natural surroundings caressed by sun and sea. They included all the sports and amenities that guests desired. And sent them back home feeling completely joyful and stress-free...energized by trying new things...meeting new people...and living new experiences beyond the everyday.

Visit Club Med for a week or a weekend and indulge yourself to do it all or nothing at all! From the colonial charm of Caravelle to the Caribbean colors of Punta Cana, Club Med villages celebrate local cultural styles in architecture, decor and cuisine, setting the stage for vivid travel memories. Let Club Med transport you beyond the humdrum world of generic, cookie-cutter resorts, while providing a reliable world-class standard of comfort.
Book by February 28, 2009, and the second person gets 50%* off the price of the stay.

Go-As-You-Please Ireland with CIE Tours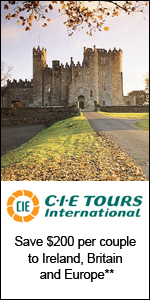 CIE Tours escorted vacations to Ireland, Scotland or England are all inclusive, so you don't need to spend an additional $550

per week, per couple to purchase optional hidden extras, like diner cabarets, banquets, walking tours and more.
In addition, CIE Tours has just announced reduced rates on its' popular Go-As-You-Please self-drive programs with Bed & Breakfast home stays throughout Ireland. For independent travelers who are comfortable with driving "on the other side of the road," these already great value-for-money programs are now even more attractive with a discount of up to 5%. Stay in lovely Irish homes where homeowners welcome guests and chat about local sights and events. Your day starts with a wholesome home-cooked Irish breakfast. Choose from over 1,100 town & country homes and farmhouses throughout Ireland. Vouchers are sold on an open basis for maximum flexibility. However, you may pre-book properties for a small service fee.
Self-Drive Homestay B & B Vacation
Self Drive with Open Vouchers 6 days / 6 nights or more
From $62 per day
So why not let CIE Tours give you a perfect, quality, hassle-free vacation - for less?

Traveling with another person whether that is your partner, a family member, girlfriend, or roommate during an organized trip, can have its pluses and its minuses. The key to an enjoyable trip for both is good planning, cooperation, and compromise. Try these suggestions:
Share reading material
Decide on must-sees for each partner
Pack one outfit in the other's luggage in case one bag is lost
Research the trip together
Book a suite or room with a balcony so that you can escape
for some alone time
Share responsibilities
Be neat
Use a book light for late night reading

Are you a chocoholic? If your top three favorite candies all have chocolate in them, you just might be. You are not alone. Chocolate has been one of the most popular flavors in the world since it was introduced to Spain in 1502. Chocolate has a profound effect on people on many levels. Many of the sensations are similar to those we experience when we are falling in love. Maybe you are not ready to admit it but if you have a secret chocolate habit, why not incorporate it into your next vacation. The world is full of some great chocolate destinations.

Belgium: Pralines in Belgium are sublime chocolate confections. Many chocolatiers still make their pralines by hand. Every town and even small villages have chocolate stores with luxurious pralines. Visit Belgium during the chocolate festival, Choco-Late, which happens in early April.

France: What's a visit to one of the world's most romantic cities without one of the world's favorite aphrodisiacs? Chocolate lovers visiting Paris won't be disappointed with the city's selection. Visit St. Germain des Pres and shop at a variety of sweet confectioner's shops, where you can compare and contrast the flavors and products.

Switzerland: Mountainous Switzerland has long been known for its fine milk chocolates. Catch the Swiss Chocolate EuroRail Train in Montreux for a quick multi-stop tour of Swiss chocolatiers. The train travels through scenic mountains to Broc, home of the Nestle headquarters where you will be treated to a factory tour and tasting.

Remember the days when a kiss in the back of a dark movie theater was more thrilling than anything you'd ever done? Why not recreate that throbbing heart while you are on a romantic getaway. There may be no better setting to share one kiss, or many, within the U.S. than the places below: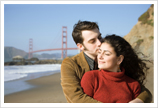 Central Park, NYC: Vanderbilt Gate just off Fifth Avenue at 105th directly beneath the flowering arch
The Charles River in Boston while strolling hand in hand at sunset.
Baker Beach located in San Francisco, CA beneath rugged cliffs and offering spectacular views of the Golden Gate Bridge. With chilly breezes, you have an excuse to snuggle and snatch a few kisses.

Advice and Expertise I Offer You

Clients who turn to a travel agent desire an in-depth, personal approach and want the advice and expertise of a professional. Below are a few things I provide in my role as your travel advisor:
Stay current on promotions relevant to you
Make recommendations on trip-related options to enhance your travel experience
Simplify the research, saving you time
Enhance your trip with value-added benefits and amenities
Call me today and let's start planning the vacation of your dreams!

Club Med Terms and Conditions:
* 50% off second guest when accompanied by a full paying adult. Must be booked in the same room. 7-night minimum stay required. Offer does not include airfare. Valid for new individual bookings for select travel dates and must be booked by February 28, 2009. Blackouts and restrictions may apply. Promotion may be withdrawn at any time and is subject to capacity restrictions. Applicable Resorts: Sandpiper, Florida; Punta Cana, Dominican Republic; Ixtapa Pacific, Mexico; Cancun Yucatan, Mexico; Turkoise, Turks & Caicos; Columbus Isles, Bahamas; Buccaneer's Creek, Martinique; Caravelle, Guadeloupe; Bora Bora, French Polynesia. Club Med membership fees of $60 per adult and $30 per child are additional. Other restrictions apply including brochure terms and cancellation/change fees. Not responsible for errors or omissions. Void where prohibited or restricted by law.
CIE Terms and Conditions:


Savings based on an 8-day tour program for two people similar to the Irish Heritage Tour.
**Book a 2009 CIE Tours escorted coach tour of 9 days or longer or a European river cruise together with either flights or travel insurance and receive a discount of $200 per room ($100 per person).


One Big World Travel
138 E. Main St
Pomona , CA 91768
www.trams.com
Washington Registration number: 2222222
California Registration No. 9999999
Registration as a seller of travel does not constitute approval by the State of California

If you would like to opt out, use this link to unsubscribe .